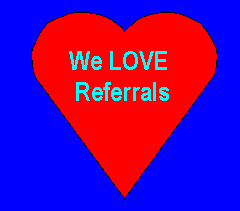 Thank you for the Referral
Our web-site does not scan for your contact information, if you do not leave contact information we will be unable to process your request. Please fill out only what you feel comfortable with, Arizona Central Land and Home DOES NOT give out your or the referral's information to anyone else.
Use the e-mail request below to tell
Us
what best describes, the Property the referral is looking for, do not forget to tell us:
(1) WHAT IS THE REFERRAL'S NAME AND ADDRESS?
(2) WHAT IS THE TYPE OF PROPERTY THEY ARE LOOKING FOR (VACANT LAND OR RESIDENTIAL OR COMMERCIAL)
(3) WHAT AREA WOULD THEY LIKE (PRESCOTT OR THE VERDE VALLEY) OR WHAT CITY IN EITHER AREA
(4) WHAT IS THE BEST WAY TO GET THE INFORMATION TO YOU? (E-MAIL OR FAX OR MAIL OR A PHONE CALL)
Thank you, Once again we will not give out your information